Evh 5150 III 212ST Cabinet 2X12 Black Brand New
Brand: EVH
Condition: New
SKU: SS0624
Body Color: Black
Model: EVH 5150 III 212ST CABINET
MPN: 2253101010
Impedance (ohms): 16 Ohms
UPC: 885978247912
$499.99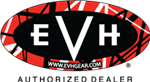 STREET SOUNDS AN AUTHORIZED EVH DEALER IS PROUD TO OFFER THIS:
EVH 5150 III 212ST CABINET IN BLACK
The new EVH 5150 III 2x12 cabinet is the perfect companion for the new EVH 5150 III 50-Watt Head, delivering pure EVH sound and power in a compact package.
The 5150 III 2x12 cabinet is rated at 16 ohms and is loaded with two 12" Celestion® G12H 30W Anniversary Series speakers; it is exactly half the cubic size (by volume) of its 4x12 big brother. Features head-mounting mechanism and tilt-back legs
Model Name:
5150III® 2x12 Cabinet
Series:
5150III®
Color / MSRP* / Part # :

Black $666.65
225-3101-010

Electronics

Wattage:

60 Watts at 16 Ohms
2253101410

Power Handling:
60 Watts into 16 Ohms

Hardware

Cabinet Material:
7-Ply 5/8" Birch Plywood
Output Impedance:
16 Ohms
Amplifier Length:
14" (35.56 cm)
Amplifier Width:
30" (76.2 cm)
Amplifier Height:
17.5" (43.2 cm); With Casters: 20" (50.8 cm)
Amplifier Weight:
60 lbs. (27.22 kg)

Speakers

Speaker Description:
Two - 12" Celestion® G12H 30W Anniversary Series
Speaker:
Two - 12" Celestion® G12H 30W Anniversary Series
PRODUCT # 2253101010
MADE IN MEXICO
THIS IS A SPEAKER CABINET ONLY , AMPLIFIER HEAD SOLD SEPARATLEY

STREET SOUNDS EST. 1988 IS PROUD TO BE AN AUTHORIZED EVH DEALER
LOWEST PRICE GUARANTEE
FACTORY WARRANTY INCLUDED
FREE SHIPPING IN CONTINENTAL U.S.
Ships within the U.S. and its territories only